Published on September 4, 2015
By William Hyman, ScD
Medical devices follow clear paths to market, beginning with design and progressing through regulatory action by the FDA. In most cases, this happens before biomeds become involved with devices, although biomeds may be involved in clinical trials and are involved in postmarket FDA measures, such as Medical Device Reporting (MDR) and recalls. Repair activities may also touch on regulatory issues such as manufacturer assertions, correct or not, that certain things can or can't be done because of FDA restrictions. Repair parts may also raise regulatory issues, as illustrated recently with respect to an FDA Warning Letter to a replacement battery company and the recall of parts from a non-OEM supplier.
Biomeds should also play a strong role in device selection. In doing so, it can be helpful to understand the two major ways in which devices negotiate the FDA regulatory system, and the implications of those two paths with respect to how much scrutiny a device received from the FDA before it reached the market. It is here that the two important and distinct labels of "cleared" or "approved" come into play. I will argue that this distinction is not one only for an academic (like me), nor one that only a regulatory geek should care about. But first, a brief background.
All medical devices are divided into one of three classes, cleverly called Class I, Class II, and Class III. Class I devices are the simplest, and come to market without any review by the FDA. Most Class II devices are subject to FDA "premarket notification," which is commonly called a "510(k)" after the section of the applicable law. Devices that go through the 510(k) process have to argue to the FDA that they are substantially equivalent to some other legally marketed Class II device. This process usually does not require a clinical trial. "Substantially equivalent" does not mean identical, and sometimes considerable differences are allowed. When a 510(k) process is successful, the device is properly said to be "cleared" but it is not "approved." Class III devices are subject to premarket approval, or PMA. A PMA usually requires a full clinical trial to actually prove that the device is safe and effective.
When selecting a medical device, it is good to know what class the device is and what route to market it underwent. It is good practice to ask the sales rep for the product's class, as well as the applicable 510(k) or PMA number. Even if the rep looks confused, he or she should be willing to find out for you. While you're at it, ask for the applicable three-letter FDA product code. This information can be helpful when looking up devices on many of the FDA's databases, including Manufacturer and User Facility Device Experience (MAUDE), Recalls, and Total Product Life Cycle. The latter can be useful because it displays all vendors, recalls, and a table of reported device problems.
In most cases, all devices of a type being considered for purchase will have the same product code, so class and cleared or approved status will not be a decision factor. However, obtaining this information can be helpful with respect to learning how forthcoming the sales reps are, and in communicating accurately with others. Moreover, I assert that biomeds and others should use the proper terminology, because the terminology has real meaning.
Aside from direct equipment selection, the implications of this difference in FDA scrutiny can be used to educate clinical staff about the devices that they use. Then, doctors perhaps won't be surprised when they learn that devices such as morcellators and duodenoscopes were never subjected to a full clinical trial, and that such devices were not "approved" by the FDA. Similarly, implanted devices such as metal-on-metals hips and surgical meshes were never "approved." One reason doctors are often surprised by the lack of clinical trials for cleared devices may be that doctors know more about drugs. Since all new drugs are approved, they may assume that this is also true for medical devices.
Most companies use the correct terminology, but the medical device press (although I haven't caught 24×7 doing it) and lay press are not always as careful. (A New York Times writer once responded to my criticism in this regard by saying that yes, he knew the difference, but his readers would just be confused by it.) Clinical journals also often get it wrong.
In this regard, biomeds can serve in an educational role by always using the correct word, and helping others understand the difference. Biomeds should also understand the potential regulatory issues around non-OEM replacement parts, and at least bring up the issue with their parts suppliers.
Some, and it turns out most, devices are "cleared" and some are "approved," and there is a difference. You are probably a geek anyway (in the good sense), so add this distinction to your geeky vocabulary and practice.
William A Hyman, ScD, is professor emeritus, Biomedical Engineering, at Texas A&M University, College Station, Tex, and adjunct professor of Biomedical Engineering at The Cooper Union, New York.
By Associated Press | August 4, 2015
Federal health officials laid out extra safety measures that hospitals can take to clean specialized medical scopes that have been linked to sometimes deadly bacterial outbreaks across the U.S.
However, Food and Drug Administration officials acknowledged on Tuesday that not all hospitals have the staff, expertise and resources to take the steps, including sterilizing scopes with toxic gas to kill bacteria. Even with such steps "the risk of infection transmission cannot be completely eliminated," the FDA said in an online statement
Despite the risks of infection, the FDA says the devices should remain available because they benefit "appropriately selected patients."
Known as duodenoscopes, the scopes consist of a flexible tube and specialized tip that surgeons guide into the digestive tract to diagnose and treat blockages of the bile and pancreatic ducts. They are used in an estimated half-million procedures per year.
The FDA came under heavy criticism earlier this year for its oversight of the hard-to-clean devices after two Los Angeles hospitals reported patients infected with antibiotic-resistant bacteria, or "superbugs," despite following manufacturers' cleaning instructions. According to government figures, there have been eight outbreaks of antibiotic-resistant bacteria linked to the devices at U.S. hospitals since 2013.
Duodenoscopes' complex design—intended to help physicians drain fluids from the body—also makes the instruments extremely difficult to clean. Bodily fluids and other particles can stay in the device's crevices even after cleaning and disinfection.
In May, the agency assembled a panel of outside experts to make recommendations for improving the cleaning and design of the instruments. Tuesday's recommendations reflect the suggestions of those experts and internal FDA staff.
Currently most scopes are cleaned manually by hospital staff or automated machines designed to disinfect the instruments. In addition to these steps, the FDA says hospitals should consider:
— performing bacterial testing on scopes that have been cleaned to make sure they are bacteria-free
— sterilizing scopes with ethylene oxide gas to kill all bacteria
— using additional sterilizing chemicals to kill bacteria
— cleaning scopes multiple times using standard manual or machine-assisted techniques
All of these steps come with additional costs and potential drawbacks. For instance, testing scopes for bacteria requires hospitals to purchase additional scopes that can be cycled in and out of use. One duodenoscope can cost about $40,000.
The agency also notes that ethylene oxide gas can be dangerous for hospital staff and patients, if residue of the toxic gas stays on the scopes after sterilization.
FDA critics, including several members of Congress, have suggested that the instruments should be redesigned to reduce risks of infection. The agency has previously said it cannot require manufacturers to redesign their products. But in its release Tuesday, the agency laid out several design changes that could reduce risks of contamination, including using disposable components for hard-to-clean areas.
"The FDA is currently working with manufacturers as they explore design innovations incorporating these features," the agency said.
Source: Modern Healthcare
By Adam Rubenfire | July 22, 2015
Two hackers recently proved to Wired magazine that they could wirelessly hack into a Jeep and other vehicles and remotely take control of them.Scarier still? Hackers have demonstrated that they can tamper with medical devices that can mean life or death for patients. "It's not a conspiracy theory. It is absolutely true that our medical devices are one of the most insecure areas in healthcare today," said Mac McMillan, a healthcare security expert and founder of CynergisTek, an Austin, Texas-based security consultancy.Implanted defibrillators and pacemakers, insulin pumps and just about every wearable or in-hospital medical device connected to the Internet has been hacked or proven insecure, McMillan said.
Recently, a hack called Medjack has been used to compromise multiple devices in an effort to steal data from hospital networks.
Medjack "has been successful at exploiting the weakness in medical devices to allow an attacker to compromise the network," McMillan said.
The federal government isn't working fast enough to address the issue, McMillan said, partly because of the hodgepodge of agencies involved, including the Food and Drug Administration, the Federal Communications Commission, the Department of Homeland Security and HHS' Office for Civil Rights, just to name a few.
The FDA has recommended that medical-device manufacturers submit documentation regarding cybersecurity issues during the pre-approval process, but McMillan said the industry otherwise lacks regulation on this issue.
Despite vulnerabilities in medical devices, patients are overwhelmingly safer using devices than not using them, said Kevin Fu, an associate engineering professor at the University of Michigan and chief scientist at Virta Laboratories, which is developing a malware detection device for hospital equipment.
Fu said the industry has a long way to go, but there are systems in place to ensure patients' safety. Part of the problem is that most medical-device engineers aren't taught IT security in school and have been somewhat unaware of the risk in the past, he said.
Though it's unlikely patients would be harmed through their implantable devices, it wouldn't be out of the question for a hacker to use garden-variety malware to infiltrate a hospital's network and coincidentally break into a medical device running old, vulnerable operating systems, Fu said. Such an attack could prevent infusion pumps from working or cause patient monitors to display incorrect information.
Manufacturers need to make devices that are inherently secure and work directly with hospitals to implement their devices in a protected configuration, Fu said. Devicemakers can't simply require that the device be installed on a "secure network," because these days that's much easier said than done.
"I think a manufacturer can no longer just assume that they'll provide the device to the hospital, and say, 'We've done our job,' " Fu said. "It needs to be much more interactive, because every network is different."
Industrywide "security hygiene" standards are being formulated through groups like the Association for Advancement of Medical Instrumentation, Fu said, but those efforts are still in their early stages.
Some hospitals have found workarounds to protect the connected devices on their internal wired or wireless networks, but they shouldn't have to accommodate devicemakers' often-antiquated operating systems, McMillan said. Manufacturers likely aren't jumping to work on security because it could force them to undergo the costly process of rewriting outdated code.
"Until someone says they need to address this, bottom line is they're being driven by their bottom line," McMillan said.
https://ohiocea.wordpress.com/2015/08/03/can-medical-devices-be-hacked-like-remote-controlled-cars/

In order to provide medical treatment, biomedical equipment management and service is vital. For this reason, medical equipment in hospitals needs to be continuously improved to ensure that hospitals are working with the best technology. Improvements are also necessary for hospital to show that they are bettering their position in a healthcare market that is not only highly competitive, but that is rapidly changing all the time.
Clinical engineering is very important to the healthcare industry when it comes to helping hospitals meet their goals and stay on top of the latest tech. Clinical engineering is a biomedical engineering specialty that is chiefly responsible for the application and implementation of medical technology for the purpose of optimizing the delivery of health care.
One of the ways in which clinical engineering departments are working toward meeting the challenges of the ever-changing healthcare market, is through mobile software applications. Although developing healthcare-related mobile applications for hospitals is not necessarily the same as developing mobile game apps, for instance, this is still a highly competitive industry. Therefore, if you are an app developer, regardless of the mobile application you intend to create, make sure that you implement the best app advertising strategies for your product.
Technological advancements that have been made within the mobile industry could be highly beneficial for several industries in the future, including healthcare. Some believe that mobile software apps and mobile touch screen devices that offer online access to knowledge management systems and enterprise services, could be useful for clinical engineering.
Thus, it's wise for hospitals and other healthcare environments or service providers set up and manage an effective clinical engineering department, as well as keep up with the latest mobile health tech trends.
Published on July 2, 2015
By Clarice M. Balconi-Lamica
I was in sixth grade when I decided I wanted to be a biomedical engineer. Before then I thought I would pursue medical school, but once I learned about the biomedical engineering profession, how it fuses both modern medicine and modern technology, I was captivated.
The biomedical world I originally envisioned was one of research and development. But once I graduated from university, I realized I wanted a job where my work in the morning would have a direct impact on people in the afternoon. I found it in the best-kept secret in healthcare: the role of the hospital biomedical engineer. Continue reading...
By Stephen Grimes
Published on May 11, 2015
As technology has evolved ever more rapidly over the past 20 years, Stephen Grimes says, too many healthcare technology management departments have fallen behind the curve. They have become, he says, like "blacksmith shops trying to support a Boeing 787."
HTM departments are well aware of the convergence of clinical engineering and networking technology, according to Grimes, the chief technology officer for ABM Healthcare Support Services. "The reality is that the technologies have converged" and the two "communities must collaborate." The challenge, he says, "is how best to do it."  
Continue reading
Healthcare providers will continue to face difficult choices among an increasingly complex array of clinical-care technologies in the near and longer term. The challenge for administrative and clinical executives is to hone their skills at pattern recognition to discern which technologies are ripe for adoption now and which types need to be planned for in the foreseeable future. Continue reading
 By Dr. John Sandham
Published April 2015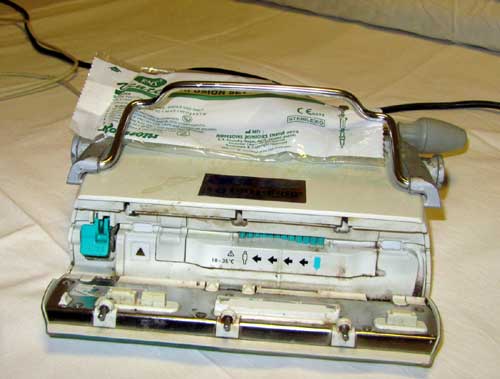 Medical Technology is changing rapidly, with continuous growth in the number of suppliers, and an increasing variation in makes and models of equipment - creating risks and opportunities for both Public and Private sector organisations.
The UK Public Accounts Committee and the National Audit Office both raised concerns regarding the NHS's fragmented approach to buying/procuring high value capital equipment. With the NHS spending approximately 500m per year on capital equipment, the potential for savings was considerable.
Issues raised from a number of sources show that uncontrolled healthcare technology management leads to poor purchasing decisions, and ultimately creates both financial and patient safety issues.
There are serious consequences when healthcare technology is not effectively managed thereby putting patients lives at risk. A report published by the Institute of Mechanical Engineers stated that 'in 2013 over 13,000 incidents were reported to the UK regulator relating to faulty medical equipment, which led to over 300 deaths and almost 5,000 serious injuries'. Continue reading 
New research adds to evidence of AvaSys' significant clinical efficacy
April 13, 2015
GRAND RAPIDS, Mich.--(BUSINESS WIRE)--Hospitals that deploy remote video monitoring systems staffed with dedicated, trained observers can reduce patient falls significantly, new clinical research has found. The research, funded by the Saint Mary's Foundation, will be published in the peer-reviewed Nursing Economic$ – The Journal for Health Care Leaders.
"There was a significant return on investment, both at the organizational level (including units with and without AvaSys) and in the units where we implemented video monitoring"
The study compared the use of the AvaSys® TeleSitter® Solution along with standard fall precautions in three units of a large urban hospital for nine months against the use of the standard fall-prevention protocol. During the study phase, remote video monitoring with a dedicated observer was used for 12 patients at a time. The study demonstrated that remote video monitoring is a safe alternative to individual patient companions and that it significantly reduced patient falls. A total of 828 patients were monitored and falls decreased by 35%.
"The research shows that patients are safer when they are monitored by a trained, dedicated observer 24 hours a day," said lead study author Lisbeth Votruba, MSN, RN, PCCN, Vice President of Clinical Quality and Innovation at AvaSure, the company that invented and distributes the AvaSys system. Continue reading
In an ever changing world of increased health care costs, organizations are always on the lookout for ways to cut or cap expenses. Health care and medical organizations generally face two options when looking to repair or put equipment under contract. The first option is to work with original equipment manufacturers (OEMs). The second option is to utilize independent service organizations (ISOs), or third-party repair services.
But there is a third option too, which is to employ well-trained biomedical engineers in-house. The down side to this is of course the cost of additional employees as well as finding biomeds with the necessary experience to properly service all of your equipment. With this option being unrealistic for many companies, most opt to choose between the OEM or a third party. While the OEM is always a reliable option, the repair costs with an OEM are usually 50 percent higher than using a third party. Sometimes, the OEM can even be closer to 75 percent higher in parts pricing.
This means that a third party is most likely the most cost effective option, but choosing the right third party can be a challenge. Below are seven points to consider in your search for the perfect third party service provider.
1. Does the third-party repair company perform testing and calibration according to OEM guidelines to ensure your device performs to the same standard as the manufacturer's original design? Can they produce documentation and service history to ensure compliance?
2. How many biomeds or engineers does the third-party company employ? Do these include qualified service engineers that are OEM trained and have the necessary skill sets to work on equipment? This qualification could be obtained through biomed training, schools, or military training. What engineering software is used to engineer specific components and assemblies?
3. Are you able to go tour their facility? Will they allow you to interact with the engineers and technicians? Make sure the third party taking care of your medical equipment is not based out of the trunk of their car.
4. What is the typical repair turnover time? Does your third party provider offer loaners? Do they have equipment, parts, and consumables on hand to minimize repair time? Do they have an on-site team to perform repairs at your facility if necessary? Make sure you set your expectations prior to sending in your equipment for service.
5. Can the third party company prove that they do not use inferior parts and materials? Ensure they are not reusing parts that should be replaced. Also ask if all the parts are used to meet the manufacture's guidelines.
6. Does the third party have transparency in pricing? For example, if you are offered a $499 flat rate for preventive maintenance, will you be charged more for basic PM parts and called before extensive repairs are made? Make sure that you are truly comparing apples to apples when considering service and maintenance rates by looking out for clauses that allow additional charges.
7. Make sure the third party service company has liability and property insurance. The last thing you want is to send your equipment in for repair and they lose it or it is damaged during service. This insurance will cover your organization if something would go wrong with the equipment and hurt a patient.
In conclusion, an ISO can be the most affordable option for service and repair, but the bottom line is do your homework to find a third party service provider that can meet or exceed the manufacture's expectations.
Source: http://www.dotmed.com/news/story/22902?p_begin=0
By Frank West